Media Contact: Lindsey Goudreau, Marketing Communications Specialist (207) 443-8330 | lgoudreau@cityofbath.com
Bath, ME (December 16, 2021) - Last week, students at Dike Newell Elementary School (DNS) and Woolwich Central School (WCS) were introduced to a new language, but it wasn't French or Spanish. It was the language of computers: coding.
It's no secret that computers have become an integral part of our modern lives. Whether it's the smartphone in your pocket or the computer system running the power grid that supplies electricity to your home, we're all exposed to an increasing cyber landscape. Unsurprisingly, jobs in computer science are in high demand: the U.S. Bureau of Labor Statistics projects that employment in computer and information technology occupations will grow 13% from 2020 to 2030, faster than the average for all occupations.1
Librarians Abby Luchies of WCS and Lisa Hardman of DNS enrolled their schools in the Hour of Code, an educational campaign which began as a one-hour introduction to computer science intended to demystify coding and broaden participation in the field. Since then, Hour of Code has become a worldwide learning event which helps nurture problem-solving skills, logic, and creativity.
"[Hour of Code] a nice way to lift the veil surrounding these machines in our pockets," said Luchies. "It's also a good exercise in perseverance; you mess up a lot and have to keep trying to get your code to work."
Depending on the age of the students in their classes, Luchies and Hardman chose different exercises; some web-based, some machine-based, and some on paper. Sue Michaud's second grade class at DNS learned basic sequencing with the library's "Bee-Bots," simple robots whose motion can be controlled with directional arrows.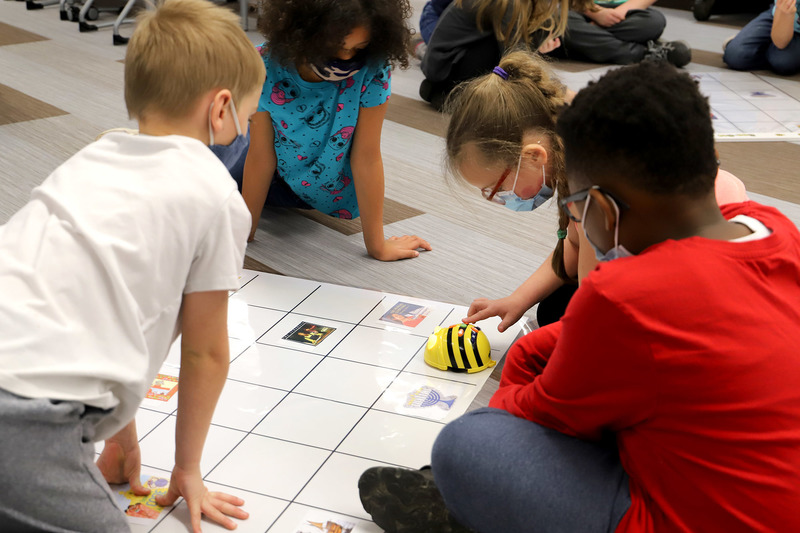 Hardman started the class with two picture books which introduced the concepts of coding: Coding 1, 2, 3 by Janet Slingerland, and How to Code a Sandcastle by Josh Funk. Students then placed their Bee-Bots on grids and took turns programming the bots to move to specific squares.
"Using [the Bee-Bots] really gets kids excited. There's equal interest for both the boys and girls," said Hardman. "They were grant-funded by the Perloff Foundation and we've had a great experience with them."
Both Hardman and Luchies hope that the Hour of Code has shown students that anyone can learn how to code, and to pursue their interest if they enjoyed it.
"It's another way to get students to see outside the walls of our school and start thinking about their future," said Luchies. "We tell them, 'You can do it!' "