Media Contact: Lindsey Goudreau, Marketing Communications Specialist (207) 443-8330 | lgoudreau@cityofbath.com
Bath, ME (November 2, 2021) - The last day of Bath Middle School's weeklong 6th Grade Science Camp was overcast, but that didn't put a damper on their fun in the Chewonki Outdoor Classroom.
BMS has a history of collaboration with Chewonki, the well-known Midcoast nonprofit which began as a summer camp and now includes its own school and slate of environmental educations programs. For the past six years, thanks to funding from RSU1 and community financial support, BMS 6th graders have had one week with the Chewonki team to discover the coast of Maine through their expansive campus.
"During the pandemic, we held Zoom classes with BMS students, but it's not the same as being with them in person," said Chewonki staff member Lillian MacNeish. "We're so happy that they are able to be here, together, experiencing Chewonki."
To make the most of their last day, students were divided into groups and rotated through several stations. Some students headed down to the estuary where they raced an imaginary tide to collect organisms from different areas of the ecosystem. At pond study, students took nets in hand and collected every critter they could find; Chewonki staff helped them identify their finds from frog to stonefly. At the Traveling Natural History Program station, students put together a unique puzzle: the skeleton of a whale.
"Outdoor, hands-on education has always been important for students, and we have heard from many visiting schools that the Outdoor Classroom experience is a welcome change of pace, especially as many schools are still dealing with strict masking and distancing rules while inside," said Chewonki Director of Marketing Communications Cullen McGough. "And while we work closely with every visiting school, the folks from Bath Middle School are also our friends and neighbors. We think these kinds of unique experiences really spark curiosity and joy in students, and sometimes help open up new ideas and pathways for their future."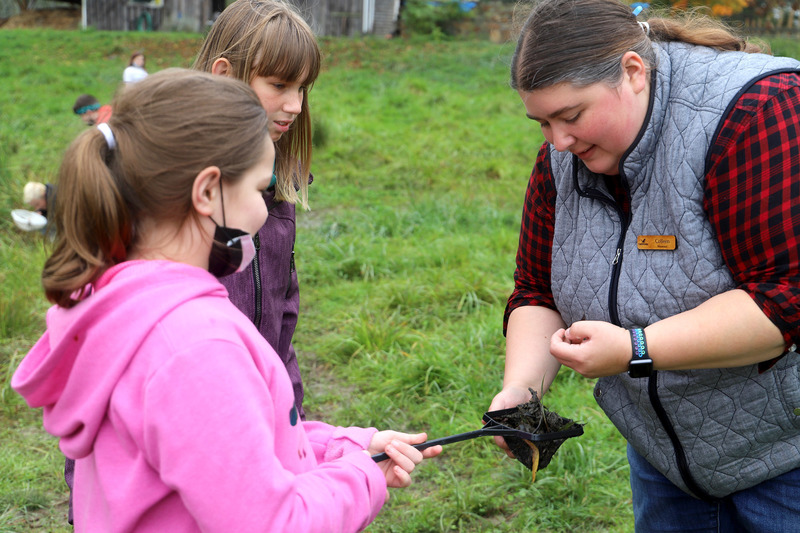 Science camp isn't the only opportunity BMS students have to interact with Chewonki. As 8th graders, they can choose to embark on a weeklong saltwater canoe trip with 8th graders from Woolwich Central School. The FLOW (Fundamental Learning On Water) trip has been a classroom highlight since it launched in 2014. Chewonki also offers a six-year mentoring program called Waypoint, which is open to middle and high school students in RSU1.
BMS Principal Brandon Ward said that the school's partnership with Chewonki goes beyond matching curriculums and teaching philosophies.
"We have many students in our district who have never spent an afternoon in the forest and have scant experience with the state's natural bounty," said Ward. "The lessons presented at Chewonki; the high expectation for group and personal responsibility; the spirit of doing one's best for the betterment of all mesh neatly with learning and behavioral expectations we follow at the middle school."
Photo: BMS 6th graders collect creatures from a pond at Chewonki for identification