On the evening on September 22, 2021, RSU1 staff, students, families, alumni, and community partners gathered for the ribbon-cutting ceremony of the new Morse High School and Bath Tech, which opened its doors in February of 2020.
Attendees were treated to the Morse High School chorus singing The Star-Spangled Banner before RSU1 Superintendent Patrick Manuel gave his opening remarks. "The process (of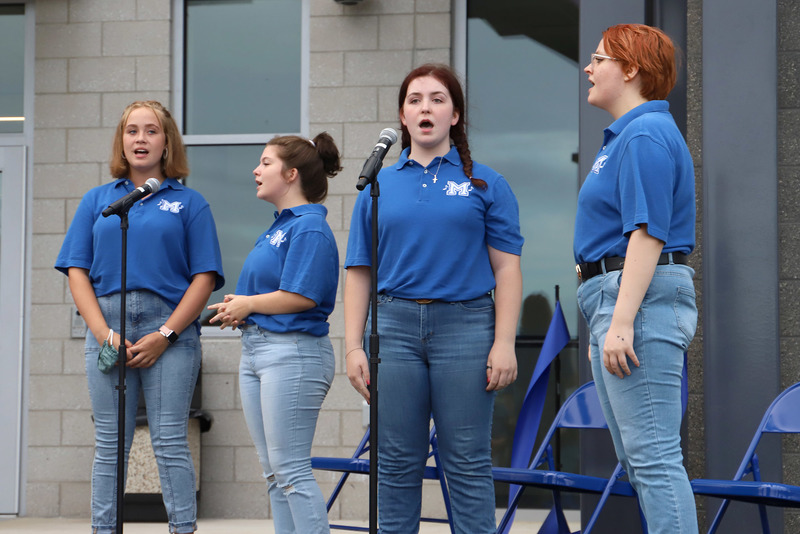 constructing the new high school) began in 2012 when our first application went into the State. We got the green light in 2015. It was a long process, but it was very rewarding to see the students and staff enter the building on the first day," he said.
The $75.3 million facility replaced the original Morse High School on High Street in Bath, which was constructed in 1904 and rebuilt in 1929 following a fire. The new facility includes upgrades which range from Promethean Boards (interactive screens which replace projectors) in every classroom to new and expanded athletic facilities to a beautifully reimagined Montgomery Theater. Manuel went on to thank the many contributors that lead to the project's success and created a facility "that allows for flexibility, adaptability, and evolution."
Speaker Stephen August, Chairman of the RSU1 School Board, called the new school "a celebration of community" built on a strong foundation of time-honored traditions and history. Leaving the original school had brought out a feeling of nostalgia in students and staff: Morse High School Principal Eric Varney said that a love letter to Morse was signed on the final days before the move. He wondered whether the nostalgia would linger but found it noticeably absent. "No letters have been sent since then, and no letters are necessary; we love our new school," he said.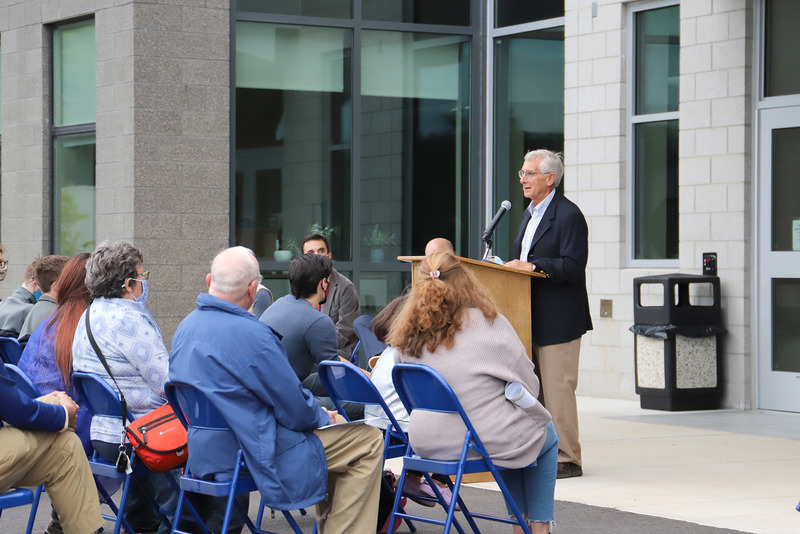 Bath Tech Director Julie Kenny talked about the unity the new building creates between Morse and Bath Tech. "Where Bath Tech used to stand on the outskirts of the Morse building, our programs are now intertwined with the Morse community, offering staff the opportunity to work together and collaborate to educate our students," she said. "The increased visibility of our programs has made a clear impact on students, as we saw a 25% increase in enrollment in just one year with 41% of the Morse 11th and 12th graders currently attending Bath Tech programs."
Bath Tech has also expanded in the new school, adding a cosmetology program in 2021 with plans to add a criminal justice program in 2022.
The last speaker of the evening was Brian Hatch, Chair of the Alumni Scholarship Fund, which has contributed more than $272,000 in scholarships to Morse graduates last year alone. "It's not brick and mortar that makes Morse High School and Bath Tech what they are," he said. "It's the students, staff, alumni, families, and (community). They are the heart and soul."
"My favorite overheard exchange in the new school was between two teenaged students," shared Principal Varney. "One said to the other, 'Going to school in a place like this makes me want to try harder.' "